From an article in the "Jewish Telegraph", March 11, 2011.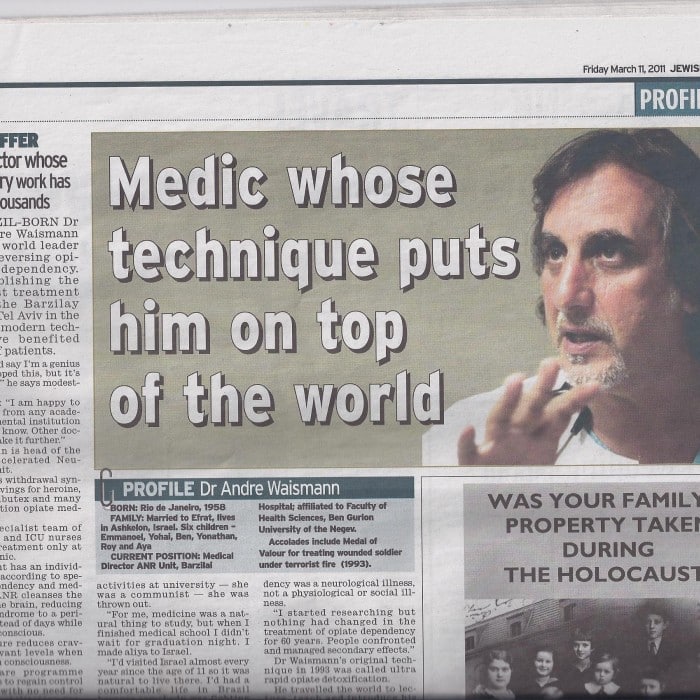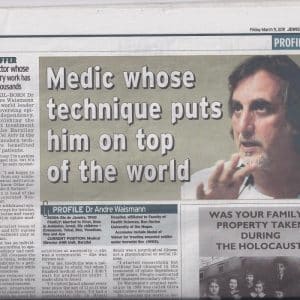 Dr. Andre Waismann is a world leader in reversing opiate dependency since establishing the world's first treatment center at the Barzilay hospital, in Ashkelon in the mid-90s; his modern techniques have benefited thousands of patients.
Dr. Waismann is head of the hospital's Accelerated Neuroregulaiton Unit.
ANR reverses withdrawal syndromes and cravings for heroine, methadone, subutex and many other prescription opiate medication.
He and a specialist team of anesthetists and ICU nurses perform the treatment only at the Barzilay Hospital.
Every patient has an individual treatment according to specific drug-dependency and medical history. ANR cleanses the receptors in the brain, reducing withdrawal syndrome to a period of hours instead of days while a patient is unconscious.
The procedure reduces cravings to irrelevant levels when patients regain consciousness.
An after care programme allows patients to regain control of their live with no need for long-term rehabilitation programs.
Dr. Waismann researched various addictions, speaking with families of wounded soldiers who had developed opiate dependency six months after surgery, observing babies with sever withdrawn syndrome from narcotic mothers and criminals dependent on heroine.
"I asked myself what was common between a new-born, a hero and a criminal. Opiate dependency was a neurological illness. Not a physiological or social illness."
"I started researching but nothing had changed in the treatment of opiate dependency for 60 years. People confronted and managed secondary effects."
Dr. Waismann original technique in 1993 was called ultra rapid opiate detoxification.
He traveled the world to lecture, teach and introduce his revolutionary method.
Variations of the method appeared at medical facilities worldwide, but by 1997 – after treating thousands of patients at his clinic – Dr. Waismann refined his technique, resulting in the ANR procedure.
He said: "The benefits of an effective, safe and humane treatment are:
"First, most patients come for treatment; second, all have a dependency and withdrawals reversed; and third, opiate cravings are not there".
"The earlier you treat opiate dependency the less psychological and social problems there will be".
"It's important to use strict protocols for all patients. Of course there are side effects, but modern medicine and modern bio-technology can reverse opiate dependency in all patients".